We are in the thick of the holiday season – office parties, family gatherings, and lots and lots of shopping. While considered the season of giving, it's unfortunately also the season to take advantage of people. Cyber criminals count on the fact you are distracted with everything that accompanies the holidays and prey on unsuspecting victims to exploit.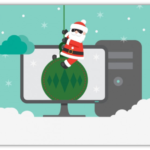 Whether you are at the local mall or ordering off Amazon, keep these simple tips in the back of your mind.
Beware of fake shipping notifications. Delivery notices are commonplace this season, but some of these announcements may be phishing scams. These false notification emails often use a legitimate businesses name and logo (FedEx, UPS, etc.) to trick you into opening the email and allowing thieves to gain access to personal information and passwords.
Use credit cards instead of debit cards. While both payment methods pose a risk if compromised, debit cards do not carry the same consumer protections as credit cards, which limit the victim's liability in the event of fraudulent charges. Also, it can take longer to recover funds stolen from a debit account and, in some circumstances, there is no guarantee that all funds will be returned to the victim.
Enable two-factor authentication (2FA) on all financial, email, and online shopping accounts. Be sure to enable 2FA on every account that offers it as this will prevent cyber criminals from gaining access, even if your username and password have been compromised.
Do your online shopping at home. Never use public computers, such as at a library or hotel, or public WiFi connections to log into personal accounts or conduct online shopping. Public computers could be infected with malware designed to steal your information and hackers can intercept network traffic traveling over unencrypted Wi-Fi signals.
The team at BMT wishes you a cyber-safe and happy holiday season! We hope you found these tips useful and encourage you to contact us if you have any questions regarding the mentioned precautions.